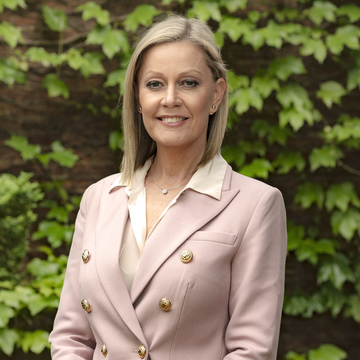 Leanne Bradford
Sales Consultant
Residential Sales

Mobile 0419 404 495
Direct 03 9490 0592
Email lbradford@milesre.com.au
About Leanne Bradford
Those that know or meet Leanne can only be impressed with her bright personality, enthusiasm and passion for her work. With a history in philanthropy and event management for a range of Melbourne charities and in the broader community; Leanne has exceptional relationship and engagement skills and is always going the extra mile for her clients and customers. Leanne has a passion for detail, customer service and doing things the right way. This instils in clients a deep sense of trust and an understanding they will be very well looked after every step of the way. She has demonstrated a commitment to achieving excellence in all that she does and real estate is no exception! Very well known in the community, Leanne is married to Joe and together they are raising their son Thomas.
Reviews
Peter Blackbourn

Leanne's knowledge of the area was first rate. Her attention to detail was excellent and as for communication, it does not get better. There were no surprises and the price we achieved was very good given the current environment. The extensive network of Miles was certainly a plus in this exercise. I would have no hesitation in recommending her services and that of Miles to family and friends.
---
Maria Riordan

Leanne did a fantastic job with the sale of our property and we were extremely glad we went with Miles Real Estate. She gave us regular updates and went above and beyond for us!
---
Katherine O'Bree

Leanne was fantastic during the entire purchase process. She went above and beyond to make sure all our questions were answered and find out any information we needed. She was knowledgeable about the area and went out of her way to help answer any questions we had. She was genuinely interested in our needs and settled our nerves as first home buyers. She again went above and beyond to make sure everything with the contact went smoothly when we needed something corrected. Could not recommended her services enough.
---
Tristan Clement

Leanne's timely response and ability to answer questions with a great knowledge and professionalism was a pleasure to deal with. What Leanne could not answer immediately she would always follow up promptly. From start to finish Leanne has showed a true passion and willingness to go above and beyond to make our experience a great one. Thanks for making this part of our journey one that we will strongly recommend to others.
---
Yujin Park

Leanne was great at keeping us updated and informed throughout the whole process. Was constantly available and responded quickly, very friendly and we felt like she wanted the best for us. Highly recommended and would deal with again. Thank you!
---
Kim & Craig Walsh

From the very first meeting with Leanne, we felt very confident in her ability to get the best possible result for our house. We found her perseverance, on the spot problem solving, together with her bright and bubbly personality very beneficial when dealing with prospective buyers. She was very easy to communicate with and was always available when we needed her. Thanks to Leanne's expertise, we achieved an outstanding result and would highly recommend her.
---
Leanne has been wonderful to work with, providing us with a stress-free and very positive experience in selling our family home. We appreciated her constant support and her excellent attention to detail, arriving early to set up for inspections and providing constant updates on how things were progressing - she was always approachable, always calm and always positive. Most importantly she had a genuine appreciation of our home and our family – thank you Leanne for a terrific result!
---
Sally Wallace

Leanne was outstanding. She worked incredibly hard for us and was personally invested in the success of our property sale. We are so grateful for her hard work, support and encouragement. We were particularly impressed with her honest and transparent approach to potential buyers - we think this helped in the successful outcome of our property. She was constantly communicating with us at each stage of the campaign, providing helpful advice and regular updates. Would highly recommend Leanne.
---
Joy Manser

I felt blessed to have Leanne working on the team. What an exceptional woman, who makes you feel just so comfortable and relaxed through these times, the communication was second to none, nothing was too much for her. Absolutely loved her she is like your new best friend, THANK YOU AGAIN
---
Victor Khuu

We would not have attained the price we received without Leanne's incredible work and dedication. She was honest and genuine every step of the way with us and with potential purchasers. In the midst of the covid-19 pandemic, our expectations and reserve were significantly lower, however with Leanne's problem-solving abilities and sheer hard work we could not have been happier with the result.
---
Rose Soloman

Leanne has been an absolute gem - she and her colleague Gordon have been nothing more than supportive and demonstrated their commitment to sell our mother's in numerous ways and achieved an excellent outcome for myself and my 2 siblings. I personally felt that I was receiving an excellent service from Leanne, she kept us informed at every point in the campaign and always listened to our views. It's one thing to listen- but Leanne HEARD us at every point and worked very hard to achieve our goal
---
Joanne Healey

From the very outset, Leanne's professionalism and warm personality stood out. Her dedication, commitment and genuine kindness was remarkable, and I feel truly blessed to have had Leanne lead our campaign to an incredible result. Leanne you are awesome!! Thank you, Leanne!!
---
Sharon Waddell

Leanne was a delight to work with. Her energy and professionalism helped make us feel at ease during the whole inspection/auction process.
She would always respond to any queries and emails in a timely manner. We would highly recommend Leanne and the Miles team if you are looking to sell your property.

---
Kevin Scrimshaw

When the decision to sell our house was made, we wanted to do it with the least of fuss and with a minimum of fanfare, but still achieve a price that represented the competitive nature of house sales in the East Ivanhoe area. Leanne's assistance in preparing the property for sale went 'above and beyond' what one might except from a Real Estate Agent, but her attention to detail paid off with us achieving a sale price in excess of what we initially expected – and in only 3 days! I would have no hesitation in recommending Leanne and the team at Miles Real Estate should anyone be looking to sell their property.

---