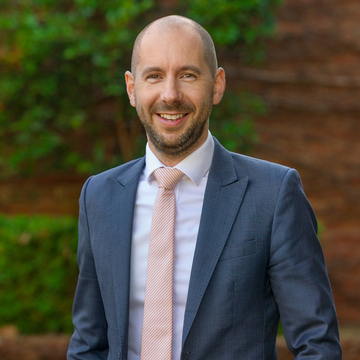 Paul Carbone
CAR
Partner
Residential Sales

Mobile 0418 541 169
Direct 03 9490 0507
Email pcarbone@milesre.com.au
About Paul Carbone
Paul's rise in the Miles Real Estate ranks is a fitting reflection of the service and results he consistently brings to his evergrowing customer base. Standout industry experience marked by a strong work ethic paved the way for a career in property sales. After expanding his knowledge and honing his skills with training, mentoring and a will to succeed, Paul soon topped the team and was acknowledged as Miles' Salesperson of the Year. A Banyule resident since birth, Paul enjoys a deep personal and professional connection with the area and its people. Communicated with honesty, integrity and enthusiasm; Paul's relaxed manner, measured approach and propensity to tell it like it is has earned him deserved respect, a trustworthy reputation, frequent referrals and repeat business. An impressive combination focused on excellent outcomes.
Reviews
Malcolm & Judith

Thank you for your efforts in the recent sale of our property in Rosanna. Your advice on preparing the house for sale and your assistance in contacting trades people to carry out the work made it much easier for us as we do not live in Melbourne.
We are very happy with the final sale price and the should period of time involved to achieve the result.
We believe you have displayed a high level of professionalism and we would be happy to recommend you to any prospective vendor.

---
Mark

Very patient great negotiator on the day of auction great feedback on how to present the property allround hastle free way to sell the unit thanks Paul a great job
---
Julie

From our first meeting with Paul we were extremely impressed with his professional and caring manner. It was very emotional for us selling our family home that our parents had started building before they were married. Paul was a great support every step of the way.
Paul's excellent knowledge of the area and the market was obvious from the start. He offered very valuable advice and kept us extremely well informed throughout the process.
Paul's reliability, patience and honesty were greatly appreciated.
We were overwhelmed by the end result. Thankyou Paul.
---
Bett

I recently sold my 2brm unit in Ivanhoe East through Paul Carbone from Miles Real Estate.
Living in New Zealand, all this happened through emails and phone calls.
Paul was right on the mark with his advice, price expectations, and proposing the best way forward, and an excellent result was achieved with a minimum of stress.
I had to place a lot of trust in Paul and his team, and he really went above and beyond in helping me with preparing my unit for sale and keeping me informed every step of the way.
Plus, he is enthusiastic, professional, and very pleasant to communicate with.
I happily commend and highly recommend Paul Carbone - many thanks.
---
Grazyna

I am extremely happy with the service I received from Paul Carbone from Miles Real Estate Rosanna. I initially shopped around for an agent to sell my family home and although Paul was modest, he stood out from the others in having the most experience in the area with the most runs on the board. He quickly earned my trust and was extremely helpful, polite and patient, as well as knowledgeable and efficient, supporting and advising me at every step of the way. Paul was full of practical advice and reliable contacts (such as painter, handyman, stylist, storage, photographer and conveyancer) to assist me to prepare and present my property to ensure its best price and efficient sale. The whole process was a very streamlined experience. My home sold pre-auction after just a short time. Paul negotiated an offer I was very pleased with and delivered to the purchaser a property they had been searching for – a win/win both ways. I would have no hesitation in most highly recommending Paul to anyone wishing to sell or buy a property in the Rosanna/ Heidelberg/ Ivanhoe/ Banyule area that he knows so well. Thanks Paul!
---
Maree

Miles represented the house we bought in Heidelberg (Paul Carbone) and have since done a valuation. We are now leasing our property through Miles Ivanhoe (Geoff and Sue) and the process has been seamless. Incredible responsive and helpful. Highly recommended.
---
Grant

We use Miles to rent our house and have also bought the same house through them. We are 1000% happy with the team. We especially love Carlie Tomat and Paul Carbone.
---