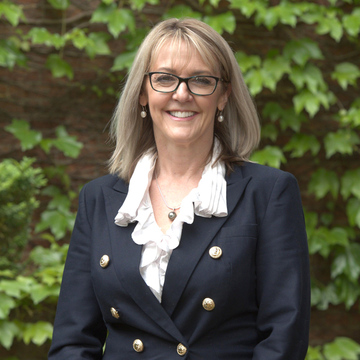 Sue Lacey
CAR
Senior Sales Consultant
Residential Sales

Mobile 0412 898 202
Direct 03 9490 0539
About Sue Lacey
Sue Lacey is a significant presence in the Banyule real estate market with over 20 years of sales experience coupled with 30 years of family living in the area. Sue´s philosophy is simple. "Achieve the highest result in the shortest possible time with the least amount of stress and always in an open and friendly manner". Communication and client service are Sue´s great strengths that she consistently delivers at the highest levels with honest, helpful advice designed to make the experience of selling and buying a property a hassle-free success for her customers. Refreshing and realistic, Sue is a true real estate professional. Her knowledge, understanding, negotiation skills, and commitment continue to exceed expectations with vendors regularly obtaining high prices and buyers securing their home or investment property with transparency and ease. A dedicated mother who is active in the local community, Sue is a hard-working member of Miles Real Estate and always available with informed, dependable and helpful advice.
Reviews
Mac

Selling a house is a massive moment in anyone's life. Sue gets it and genuinely helps you through the process getting you the best result.
---
Laura

Goes way above and beyond what is required. Very professional and dedicated! Love Sue's direct but gentle approach too.
---
Mac

Selling a house is a massive moment in anyone's life. Sue gets it and genuinely helps you through the process getting you the best result.
---
The Fiotrnti Family

We are very happy with the service that Sue has provided in relation to the sale of Ambon crt, as you know there were many issues around settlement and Sue was able to get updates from the purchaser daily, which she didn't have to. She went above and beyond and was very helpful from the start of the sale process to settlement, excellent service all round. Once again Miles has not let us down in selling properties and I will continue working with Sue and yourself until I keep selling properties.

So credit to Sue and yourself for always looking after the Fiorenti family, thank you for great service, support and advice.
---
Linda Terry & Michael Lamin

"Highly professional in all dealings, Sue Lacey's effort to help us sell both properties in the last 12 months have been exemplary. She treats us like family, nothing is too hard is an absolute dynamo for getting the tradies all lined up and job done in super quick time PLUS, achieved a fantastic financial outcome. We are thrilled and very much indebted to her."
---
Suzanne W.

" I have no hesitation in recommending Sue Lacey to buyer and vendors. Having purchased and sold with Sue and Brad this year, we appreciate the way they are attentive and supportive without ever being pushy. Sue is very experienced, and provides high quality advice in a positive and respectful manner. Their marketing of our house achieved substantially above average buyer engagement for the suburb. I am very satisfied with the result of our action, having sold above reserve, and would like to thank Sue and the whole Miles Real Estate team for their hard work and professionalism."
---
Fiona & Richard

"Sue Lacey has been exceptional, being consistently positive, punctual and diligent, and her communication outstanding. After each 'open for inspection' we would received immediate feedback in person or by phone. Together with weekly reports. She checked all requests and details with us (e.g. marketing options, extra inspections, checking property details) and responded quickly to emails. As a person we found her delightful, genuine and trustworthy. All in all, we consider her a top-level salesperson and consider ourselves lucky to have ad her acting on our behalf."
---
David Banks

"Dear Sue,
Firstly, this really hurts me as I have always said that Real Estate Agents are lower on the food chain than used car salesmen, but in this case, I have to eat my words and hope not to choke on them. I have found the staff at Miles to be some of the most understanding accommodating, helpful (and yes, although this part really hurts me) honest agents I have ever dealt with. Sue, I credit you with a lot of this over the past few weeks for your exceptional commitment to the sales campaign. I would happily recommend Sue and the sales team to any prospective vendor."
---
Peter Dreher Partner

"We were impressed by the level of service given by Miles and in particular, the care taken by Sue Lacey. The team was responsive and dedicated to the agreed plan.

Sue Lacey's effervescence is as bubbly as a bottle of Schweppes soft drink. Like a shaken up version of the said bottle, her infectious enthusiasm for the campaign spilled over to those around her, including prospective buyers. That said, at our home we have retired the word "thrilled" and are researching our thesaurus for a replacement"
---
Shan Jensen

"Dear Sue, I would, most sincerely, like to express my gratitude for your care and attentiveness toward me during the momentous and emotional time of selling my precious home. You have been thorough and efficient throughout the process and always, everyday connecting with me with a smile and convinced positivity. As if you were a good friend you kindly reassured me on numerous occasions, dispelling my fears and anxiety. I found your humanity encouraging. It enabled me to trust Miles Real Estate and really feel that you are a decidedly valuable member of the team. Thank you for being who you are Sue. I wish the best possible future to you."
---
Peter Lorenz

"Dear Sue,
I am generally not a person to write a letter of appreciation, however in this instance I believe credit is due. You recently sold my mother's house in Ivanhoe on my behalf and the service I received was exceptional. From the first initial meeting unit it was sold to your service, communication and integrity was exemplary. I was also very impressed with how you worked as a team to get me an exceptional result. So on behalf od my wife and I thank you so much. We would have no hesitation in recommending you to anyone."
---
Meld

We were lucky enough to have Sue Lacey from Miles Real estate sell our home. We had Sue recommend by a friend, and she lived up to her reputation.

Sue was honest, excited and understanding through the emotion time of selling our home. Sue answered all our questions, showed excellent communication skills and her enthusiasm matched ours. Sue always listened and we felt we could trust her direction.

We felt 100% confident in her and she always kept us up to date with how the campaign was tracking.

The day our photos were taken she gave us her uninterrupted attention, her ideas matched ours, and we felt as comfortable as possible through the campaign.
---
Chloe

can highly recommend Sue!
It was our first time selling a home, she really helped to simplify the process, and make something that was quite daunting for us, extremely straightforward.
From the beginning she was very approachable and easy to talk to.
Communicated very well with us between inspections, keeping us updated and well info with any progress, and seemed to build good relationships with potential buyers... which I'm sure helped to achieve the outstanding result!
We will definitely be in contact with Sue when we prepare to sell our next home.
Many Thanks to Sue & the Miles team!!
---
Connie

Sue's patience and and honesty throughout the whole selling experience made it easier for me to cope.
I would recommend Sue Lacey to anyone looking for a reliable agent to assist and guide the vendors towards the best sale outcome.
---
Linda

No matter what was needed for the sale of our unit in Yallambie, Sue Lacey was on to it in a flash. She always went above and beyond anything we would have expected or previously experienced, from a real estate agent acting on our behalf. Her co-ordination of trades people to prepare the property for sale was once again amazing , with nothing left to chance and everything achieved in not much more than a week. Sue adds such a personal touch to the sale process that we felt we were dealing with a good friend rather than just a real estate name. Thanks Sue, your efforts are SO much appreciated - not to mention the wonderful financial outcome you achieved for us!
We couldn't recommend Sue more highly for any real estate dealings..
---
Liz

Sue Lacey handled all aspects of the sale of our home in Viewbank in an exceptionally positive, pleasant and professional manner. We found Sue to be very encouraging and supportive, and is a truly genuine Agent. Sue's knowledge of Viewbank and surrounding areas is second to none. We have no hesitation in highly recommending Sue Lacey!
---
Megan

Thankyou Sue for supporting my family though the sales campaign for our home in Rosanna. I felt immediately comfortable with you and your enthusiasm and passion for your work was very evident from start to finish. You were incredibly kind and caring and calm checking in on my boys and how we were all coping with the pressures of selling a home .
Thankyou for helping us achieve an amazing result.
Megan Danny boys and of course Roxy
---
Laran

Sue Lacey in my estimates is an extremely efficient and responsible real estate agent.
She sails through the hard bits as she glides through the less so hard bits. Extremely organized
and so knowing in all aspects of selling any real estate. I believe she has wizardry skills and is a breath of fresh air when it comes to selling a property. Well done Sue and certainly know where to go next time if needed. Regards Laran Kucan ( daughter of John Perry), vendor, whom is also extremely grateful.
---
Genevieve

Sue Lacey recently managed the sale of our mother's home and we are all very grateful for her hard work and the exceptional result. Mum had moved into aged care and Sue was sensitive to the need for siblings to consult with each other and to respect mum's wishes. We believe Sue provided good advice on where to spend modest sums to get the best result. She helped us source tradies and a stylist and went the extra mile to ensure they got everything done quickly. Once the campaign started we were kept informed and Sue shared our enthusiasm as the buyer interest started to build. Sue is straightforward and open and fun to deal with. Sue and Brad provided great preparation for auction day and Brad ran a great contest. The price exceeded our expectations and we are so pleased that we now have financial security for our mum.
---