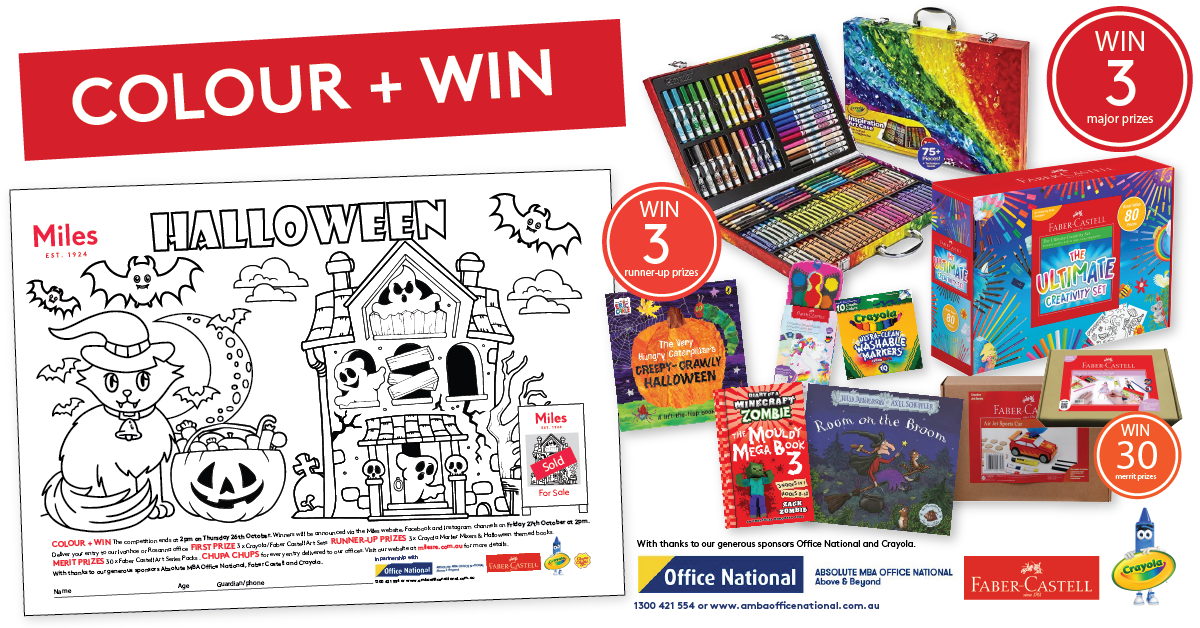 Spooktober is well and truly underway at Miles and the Upper Halloween Road trick or treat Spooktacular in Ivanhoe event is on the horizon too!
Thank you to our generous sponsors Absolute MBA Office National, Faber Castel and Crayola.
Thank you to EVERYONE who entered - we absolutely loved see all the creatively and appreciate the effort than went into each and every colouring!
Congratulations to our winners listed below!
Major Prize - Deluxe Art Sets

Penny T. 5yo - Winner: Ages 5 and under - Faber Castel Ultimate Creativity Set and Paint Deck
Scarlet C. 8yo - Winner: Ages 10 and under - Crayola Inspiration Art Case
Flynn P. - Winner: Ages 10 and over - Crayola Inspiration Art Case
Runners up - Crayola Marker Mix + Halloween books Prize Pack

David K. 5yo - Winners: Ages 5 and under
Saskia 8yo - Winners: Ages 10 and under
Max P. 11yo - Winners: Ages 10 and over
Merit Prizes - Faber Castell Creative Art Series Packs

Sophie M. 10yo
Zara 8yo
Lexi O. 6yo
Madeline F
Hannah 8yo
Eliza W. 4yo
Zoe V. 7yo
Olivia V. 9yo
Halie 8yo
Remy W. 2yo
Ciara 7yo
Alice 9yo
Stephanie 5yo
Lenny 4yo
Henry 7yo
Emily C. 5yo
Ollie O. 2yo
Isabel J.10yo
Harry 7yo
Abby M. 9yo
Natalia C. 8yo
Dylan T. 8yo
Ted P. 8yo
Thomas 4yo
Manolya 6yo
Poppy 4yo
Charlie B. 5yo
Evie 7yo
Freddie 5yo
Scarlet 3yo

Ace P. 7yo
Taiga P. 5yo
Amalia B. 6yo
Tarja 9yo
Henry 10yo
George 6yo
Julien B. 11yo

TERMS
Competition End Date - Thursday 26th October, 2023 at 2pm.
Competition Winners Announced - Friday 27th October, 2023. Winners will be announced via the Miles Real Estate website, Facebook and Instagram pages.
Competition Prizes Collection - Prizes will be available for collection from Friday 27th October, 2022.
Prizes must be collected from Miles Real Estate Ivanhoe Office before Friday 27th of November, 2023. Prizes will not be posted to prize winners.
Important Notes - Complete the entrants details on the sheet, including the age of the child that has entered and a parent or guardian contact phone number. Only one entry per child can be submitted.
Judges - Front of house Reception + Administration staff Team and our Director, Stewart Oldmeadow.
Thank you to our competition partners, Absolute MBA Office National, Faber Castell and Crayola.

BEST OF LUCK.
For more information about Halloween Spooktacular in Ivanhoe click here.

Miles staff are excited to be participating in Halloween Spooktacular in Ivanhoe so come and visit us on Friday the 27th of October from 2-5.30pm. We will be set up for trick or treat at our Halloween Spooktacular stall at 143 Upper Heildelberg Road, right next door to Spooktacular central.